Welcome to the vibrant city of London! Bursting with history, culture, and a cosmopolitan atmosphere, this iconic destination offers a variety of neighbourhoods that cater to every tourist's budget.
Whether you're a backpacker on a shoestring budget, a mid-range traveller seeking comfort and convenience, or a high end London enthusiast looking luxury, there's a perfect place for you to call home during your London adventure.
In this guide, we'll check out the best neighbourhoods and accommodation options, along with interesting tourist destinations nearby that make each area unique.
Located in North London, Camden Town is a vibrant neighbourhood famous for its alternative culture and lively atmosphere. With an abundance of budget accommodations, including hostels and inexpensive hotels, this area attracts backpackers and young travellers.
Camden Market, famous for its diverse food stalls and distinct stores, is a must-visit. The market is comprised of several markets each with their own character – Camden Village Lock, Inverness Street Market, The Stables Market and Buck Street Village.
Camden was the birthplace of the British punk movement with its counter-culture ideology, fashion and music. Camden retains some of this gritty urban atmosphere, whilst being a vibrant lived neighbourhood.
A wander around the neighbourhood will reward you with striking street art and murals.
Camden has an vast array of pubs, restaurants, theatres and clubs making it a magnet for night life too. Catch live music performances at iconic venues like The Roundhouse. You can get your fix of folk music and more at Cecil Sharp House, and the Jazz Café will satisfy any jazz lover. 
Alongside the urban edginess of Camden, explore the picturesque Regent's Canal. Nearby tourist attractions include the London Zoo and Primrose Hill, offering stunning green space and spectacular panoramic views of the city.
Situated in East London, Shoreditch is a trendy, fashionable area full of young creatives and trendsetters. You will find it one of the most vibrant destinations in London, where young locals go to play!
Shoreditch is an eclectic mix of hipster cocktail bars, traditional pubs, vibrant clubs and specialist shopping. It's a neighbourhood with a thriving art scene, and you can lose yourself for a few hours exploring the street art in the area.
With a range of budget-friendly options, Shoreditch's accommodation options can be found in the midst of vibrant street art, niche shops and diverse ethnic restaurants. Experience the colourful nightlife, browse the vintage shops on Brick Lane, and check out the renowned Columbia Road Flower Market on Sundays.
Nearby tourist destinations include the Tower of London, the historic Spitalfields Market, and the vibrant nightlife of Hoxton. To explore your inner child, head to Ballie Ballerson, a famous cocktail bar with giant ball pits filled with a million fun-inducing balls.
Located in West London, Notting Hill offers a delightful mix of bohemian charm and affordable accommodation.
Check out the colourful houses (walk down mews to see quaint homes in rainbow colours) and Georgian Squares with public gardens for a little slice of tranquillity.
Notting Hill is a trendy and vibrant area alongside very upmarket and exclusive residences.
Immerse yourself in the lively Portobello Road Market, known for its antiques, fashion style, and street food. The Market is especially vibrant on weekends with Saturday mornings being the best time to visit.
For a trip down memory lane, visit the Notting Hill Museum of Brands to see the development in consumer culture and advertising over the last 150 years.
Visit the historic Electric Cinema, enjoy a relaxing stroll in Hyde Park, or experience the annual Notting Hill Carnival, a vibrant celebration and carnival event of Caribbean culture.
If you're a fan of travel books, pop into the Notting Hill Travel Bookshop on Blenheim Crescent, a treasure trove for the curious and the itinerant.
For a moment of calm, head to Holland Park. Its renowned Japanese style, Kyoto Gardens. Spring is especially magical for the cherry blossoms. Holland Park is a great spot for a picnic, as well as open air opera and performance at the Holland Park Theatre.
Positioned along the banks of the River Thames, Greenwich provides a peaceful escape from the city's hustle and bustle while offering economical accommodation options.
Greenwich is a charming neighbourhood with a vibrant little village. Its worth taking a stroll around the village to appreciate the neighbourhood which is filled with historic sites and attractions.
Visit the UNESCO World Heritage Site of Greenwich Park, home to the Royal Observatory and the Meridian Line. Take in the Maritime Museum, see the magnificent Painted Hall in the campus of the splendid Royal Navy College, a 1700 Baroque masterpiece to rival any similar in Europe.
The Queen's House, a free gallery with works by Turner, Holbein and Canaletto, and set in a superb historical royal home designed by Inigo Jones.
Discover the charming Greenwich Market, filled with artisanal crafts and mouth-watering street food. An antique market runs on Thursdays. Other attractions in the neighbourhood include the Cutty Sark, a historic a historical sailing cruising ship, and the O2 Arena for live events and entertainment.
Finally, don't miss the epic views of London from Greenwich Park. From here you can across London to the famous skyline which makes the city so famous.
Located in the heart of London's West End, Covent Garden is a popular option for mid-range tourists.
Covent Garden is one of the best-known areas in London and for good reason, with its plethora of restaurants, tourist attractions, night life spots and amazing vibes. In the mid-range, the area boasts a mix of boutique hotels and trendy serviced apartments. The area is central to everything that's happening in the city.
Indulge in shopping at the Covent Garden Market, a recognisable attraction drawing tourists and locals alike, and the many fashion and high-end stores around the gorgeous 17th century piazza. Stop and admire the many street performers and entertainers on the vibrant piazza.
Catch world-class opera and ballet performance at the Royal Opera House, home to the famous Royal Opera and the Royal Ballet. The Opera House is a hub of culture and has been home to high-brow entertainment since 1858.
Don't miss a hidden gem in the passages of Covent Garden: Neal's Yard. Filled with quaint, independent shops and delicious eateries, these colourful little passages can easily be missed.
Staying in Covent Garden means you are close to a multitude of the most amazing tourist destinations and galleries. Don't miss Somerset House home of the impressive Courtauld Gallery, Trafalgar Square, the National Portrait Gallery (newly reopened after a multimillion-pound renovation), the National Gallery, the London Transport Museum, the London Film Museum, and wander the Seven Dials for first-class shopping. The theatre district of the West End and China Town are just a stone's throw away.
Nestled in south-west London, beautiful South Kensington is known for its elegance and cultural institutions, making it an ideal neighbourhood for mid-range travellers. South Kensington also a popular place for families to stay given its proximity to so many family-friendly cultural attractions. Stay in one of the charming boutique hotels or serviced apartments.
South Kensington, in the Royal Borough of Kensington and Chelsea' is very established, home to celebrities and wealthy expats, and a fair smattering of students given that the world-renowned university, Imperial College lies in the borough.
The borough is filled with prestigious institutions, many of which have permanent exhibitions that are free to visit. The Victoria and Albert Museum, the Natural History Museum, and the Science Museum. These are highly rated attractions and worth visiting during your stay in London. Each boasts enormous collections of world-class objects and artifacts.
Catch a performance at the Royal Albert Hall, home to top-notch contemporary and classical musical performances, choral music, circuses, among others. If you are in London in the months of July through September, don't miss the famous Proms.
Staying in South Kensington will give you ample opportunity to wander the tree-lined beautiful streets which are full of terrace houses and garden squares.
The borough has no shortage of incredible green spaces. Stroll through the peaceful Kensington Gardens, the gardens of Kensington Palace which has been a royal residence for over three centuries, and visit The Orangery, with incredible views over this special landscape. Wander the incredible Hyde Park, the largest of the parks in central London.
Delight in high-end shopping at Kensington High Street, or stroll a little further and explore the elegance of Knightsbridge.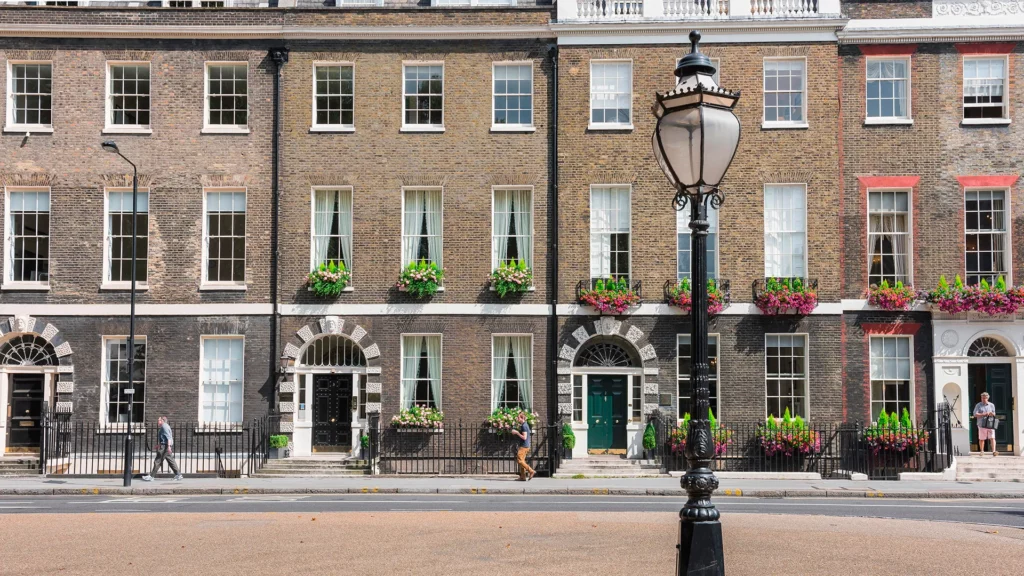 Located in central London, Bloomsbury is a literary and intellectual centre, ideal for mid-range travellers looking for a touch of history and charm. Bloomsbury is also home to many academic and research institutions, and home to many celebrities. The area is abuzz with students and tourists, and there is so much to see in this small neighbourhood of London.
Stay in a boutique hotel or a quaint bed and breakfast nestled among the picturesque garden squares.
Immerse yourself in the neighbourhood's literary history by visiting the British Library. The British library has 170 million items (and some 400 miles of shelves) including objects from every age in written civilisation. On display are treasures such as the Magna Carta, notebooks of Leonardo da Vinci and William Shakespeare's first folio.
Explore the many beautiful garden squares in Bloomsbury to see the Bloomsbury Group's former residences, including the prominent Bloomsbury Square.
Russell Square host the Weiner Library on Holocaust Research whilst Tavistock Square is home to a famous statue of Ghandi. The Foundling Museum is situated off Brunswick Square and adjacent to this, little ones will enjoy the playground that is Coram's Fields (no unaccompanied adults).
Find a gem, St Georges Gardens, a short stroll from the Brutalist Brunswick Centre, the first burial ground outside of a churchyard and a place of beautiful tranquillity.
Visit the Charles Dicken's Museum to learn more about the literary history of the area.
The British Museum is home to a vast collection of art and artifacts. The Wellcome Collection is a specialty science and medicine collection that has recently reopened after refurbishment. For the curious, more medical and science exhibits can be found at the Hunterian Museum in the Royal College of Surgeons with its massive collection of specimens, and the Grant Museum of Zoology with 68,000 specimens from the animal kingdom. Check out the Petrie Museum of Egyptian Archaeology which is part of University College London holding some 80,000 artifacts.
Situated in central London, Marylebone provides a blend of sophistication and charm, making it a popular choice for mid-range travellers. Stay in stylish boutique hotels or serviced and explore the area's captivating streets adorned with Georgian and Victorian architecture.
Whilst chic and stylish, Marylebone still retains a village feel with small high-end boutiques, relaxed pubs, and smart independent local eateries.
Visit the world-famous Madame Tussauds wax museum and witness lifelike celebrity figures. This is popular among tourists and queues should be expected.
Take a leisurely amble through Regent's Park, where you can visit the magnificent Queen Mary's Rose Garden or the London Zoo. This heavenly park is part of a network of incredible green spaces that pepper the London landscape. Its well worth a visit to enjoy the tranquil space.
The Wallace Collection in Manchester Square to view a remarkable and eclectic collection of paintings, sculptures, furniture and armoury. There are 28 exhibition rooms and entrance to the museum is free.
The Sherlock Holmes Museum where Sir Arthur Conan Doyle's brilliant, complex pipe-smoking detective resides, and remains a favourite of readers. Filled with Victorian artifacts and curiosities, the Museum is located at 221B Baker Street, now a famous London address.
Explore the high-end shopping of Marylebone High Street, dotted with trendy boutiques and artisanal cafes and coffee shops. Among the designer shops in the area are Tiffany and Co., Asprey, Louis Vuitton, Cartier, and Ralph Lauren. You'll need a bit of surplus cash to shop here!
Renowned for its exclusivity and splendour, Mayfair is the embodiment of luxury high-end in London. Stay in prestigious five-star first-class luxury hotels or sophisticated homes that offer unparalleled luxury and impeccable service. You're sure to recognise the iconic names of The May Fair Hotel, Claridge's, The Dorchester or the Athanaeum Hotel, among others.
If shopping is your game, indulge in the lavish boutiques and shops on Bond Street, where luxury high-end designer brand boutiques line the street. The main shopping hubs can be found on Mount Street, Bond Street, South Moulton Street and the beautiful Burlington arcade.
Dine at Michelin-starred restaurants and sip cocktails in elegant bars. The Mayfair experience is one of opulence and extravagance!
You can get your slice of culture and history in Mayfair too: this is London after all. Visit the extraordinary and world-renowned Royal Academy of Arts based in Burlington House on Piccadilly which is run by artists and architects famous for their exceptional work. The Summer Exhibition features the world's largest open-submission exhibition and is well worth visiting.
Visit the Handel & Hendrix Museum, which showcases the homes of these famous musicians, separated by a wall and two centuries.
Knightsbridge is synonymous with luxury and elegance.
Stay in luxurious accommodation that overlook Hyde Park or the famous Harrods department store.
Knightsbridge is famous for its high property values, grand Victorian houses and beautiful squares. Walk through the neighbourhood to discover why is this among the most prestigious places to live, not forgetting to discover the pretty mews streets behind the imposing houses.
Wander along Sloane Street. Brompton Street and Knightsbridge Green to embark on your shopping spree: these streets are lined with high-end fashion houses and luxury brands. Explore the world-famous Harrods which boasts an extravagant Egyptian staircase, and attracts some of the wealthiest shoppers from across the globe. Harvey Nichols nearby sells exclusive fashion and beauty.
For your dose of culture, check out the Victoria and Albert Museum, where you can admire art and design. Hyde Park will offer a welcome respite from the bustle of Knightsbridge, with the Serpentine Lake close by for a beautiful setting for a picnic.
Apsley House, a Grade 1 listed building from the 1700s boasts an impressive collection of old masters including Goya, Van Dyck, Rubens and Velazquez.
Knightsbridge is a magnet for young Instagram influencers with its beautiful and Instagram worthy settings and must-be-seen-at restaurants and bars.
Nestled along the banks of the River Thames, Chelsea exudes charm and affluence, attracting tourists looking for a refined and luxurious experience. Choose from high end hotels, boutique hotels or luxury serviced homes and immerse yourself in the neighbourhood's restrained yet urbane atmosphere.
Designer boutiques and Michelin-starred restaurants line the street, especially the busy King's Road. Chelsea is renowned for stylish shops, brunch places, fashionable coffee shops and world-class restaurants.
Take a walk along the River Thames along the Chelsea Embankment. It's a particularly beautiful part of the river where you can take in the beautiful scenery. You can enjoy views of the newly renovated Battersea Power Station and the iconic Albert Bridge, and other landmarks along the river.
Visit the famous and trendy Saatchi Gallery, exhibiting cutting edge and sometimes controversial art. Advance booking is recommended as the gallery is very popular.
Check out the Chelsea Physic Garden, a tranquil oasis filled with medicinal herbs and plants. Founded in 1673, The Chelsea Physic Garden is London's oldest botanical garden and well worth a visit. For more exceptional green space, visit the Ranelagh Gardens of the Royal Hospital, a secret gem that is far off the tourist track. These are beautiful and secluded gardens although well known for hosting the famous annual Chelsea Flower Show in May.
For luxury accommodation in the heart of London's historic financial district, the City of London offers sleek hotels with spectacular skyline views. The area is home to both the Bank of England and the Stock exchange. Medieval alleyways are overlooked by glass-clad skyscrapers.
During the day, the streets are filled with affluent City workers and tourists drawn by the many attractions.
The City of London has many trendy and smart bars and restaurants, including some with rooftop bars overlooking the City, especially dramatic at night.
The City is filled with historical landmarks including the iconic St. Paul's Cathedral and the Tower of London. Both are well worth a visit for their history, location and interest. St Paul's Dome offers sublime views of the city, as does the amazing Sky Garden, located in the Walkie Talkie building, which is free to visit with a pre-booked ticket.
Take a leisurely walk along the Thames River, appreciating the architectural marvels of the Millennium Bridge, Tate Modern and the Shard.
London's diverse neighbourhoods offer a variety of places to stay to suit every budget. From the vibrant and alternative ambiance of Camden Town and Shoreditch to the sophistication of Mayfair and Knightsbridge, each neighbourhood area offers unique and special experiences and attractions.
Whether you're a budget-conscious backpacker, a mid-range explorer, or a luxury enthusiast, London has the perfect location for you to call home during your visit.
If you want to support our blog, please make your flight and hotel bookings by clicking onto the adverts (we make a small commission and would really appreciate it). You can book through the link to anywhere in the world, but, of course, we encourage you to come explore London!