Soho and the West End of London are renowned for their vibrant atmosphere, bustling streets, and, of course, their fantastic food scene.
From quirky cafes to fine dining establishments, these neighborhoods cater to all tastes and preferences.
In this article, we'll take you on a mouthwatering journey through the 15 best restaurants in Soho and the West End, highlighting their specialties and providing addresses for your convenience.
Dishoom – Kingly Street, Carnaby:
Transport yourself to Bombay with the irresistible flavors of Dishoom. This popular Indian restaurant is known for its delectable dishes like the Chicken Ruby and Black Daal. This is the foodies choice for Indian cuisine but be warned, there may be queues.
Address: 22 Kingly St, Soho, London W1B 5QP.
Bob Bob Ricard – Upper James Street, Soho:
Indulge in luxurious comfort food at Bob Bob Ricard, where British classics meet Russian influences.
Don't miss their famous Beef Wellington or delicious bellini hour, nor the legendary "Press for Champagne" button at each table.
Address: 1 Upper James St, Soho, London W1F 9DF. 
Bao – Lexington Street, Soho:
If you're a fan of Taiwanese cuisine, Bao is an absolute must-visit.
Their pillowy soft buns filled with succulent pork belly or crispy fried chicken are to die for.
Address: 53 Lexington St, Soho, London W1F 9AS.
The Palomar – Rupert Street, Soho:
Experience the vibrant flavors of the Middle East at The Palomar. Enjoy their iconic Jerusalem-inspired dishes, including the Polenta Jerusalem Style and the famous Kubaneh bread.
Address: 34 Rupert St, Soho, London W1D 6DN.
Hoppers – Frith Street, Soho:
For a taste of Sri Lankan cuisine, head to Hoppers.
This trendy spot serves up aromatic curries, flavorful dosas, and the signature hopper, a bowl-shaped pancake perfect for sopping up delicious sauces.
Address: 49 Frith St, Soho, London W1D 4SG.
Yauatcha – Broadwick Street, Soho:
Indulge your senses in contemporary Chinese dim sum at Yauatcha.
Their delicate steamed dumplings and vibrant patisserie creations are a feast for both the eyes and the taste buds.
Address: 15-17 Broadwick St, Soho, London W1F 0DL.
Barrafina – Dean Street, Soho:
For a taste of authentic Spanish tapas, Barrafina is the place to be.
Feast on mouthwatering dishes like Jamón Ibérico, Croquetas, and the famous Tortilla Española.
Address: 26-27 Dean St, Soho, London W1D 3LL.
Brasserie Zédel – Sherwood Street, Soho:
Transport yourself to Paris at Brasserie Zédel, a stunning French brasserie offering a wide range of traditional dishes.
Don't miss the Steak Frites and the decadent Caramel Éclair.
Address: 20 Sherwood St, Soho, London W1F 7ED.
Flesh & Buns – Earlham Street, Covent Garden:
Get your fix of Japanese comfort food at Flesh & Buns.
Their fluffy steamed buns filled with succulent meats, like the Korean BBQ beef or the crispy duck, are perfect for sharing.
Hawksmoor – Air Street, Piccadilly:
Meat lovers rejoice at Hawksmoor, known for its exceptional steaks and deliciously indulgent sides.
Treat yourself to a mouthwatering Porterhouse or the succulent Short Rib Nuggets.
Address: 5 Air St, Piccadilly, London W1J 0AD.
The Wolseley – Piccadilly, Mayfair:
Dine in style at The Wolseley, an elegant brasserie with a touch of old-world charm.
Their classic dishes like the Wiener Schnitzel and the Lobster Thermidor are simply divine.
Address: 160 Piccadilly, St. James's, London W1J 9EB.
Kricket – Denman Street, Soho:
Kricket combines British ingredients with Indian spices to create innovative and mouthwatering small plates.
Don't miss their Keralan Fried Chicken and the delectable Bhel Puri.
Address: 12 Denman St, Soho, London W1D 7HH.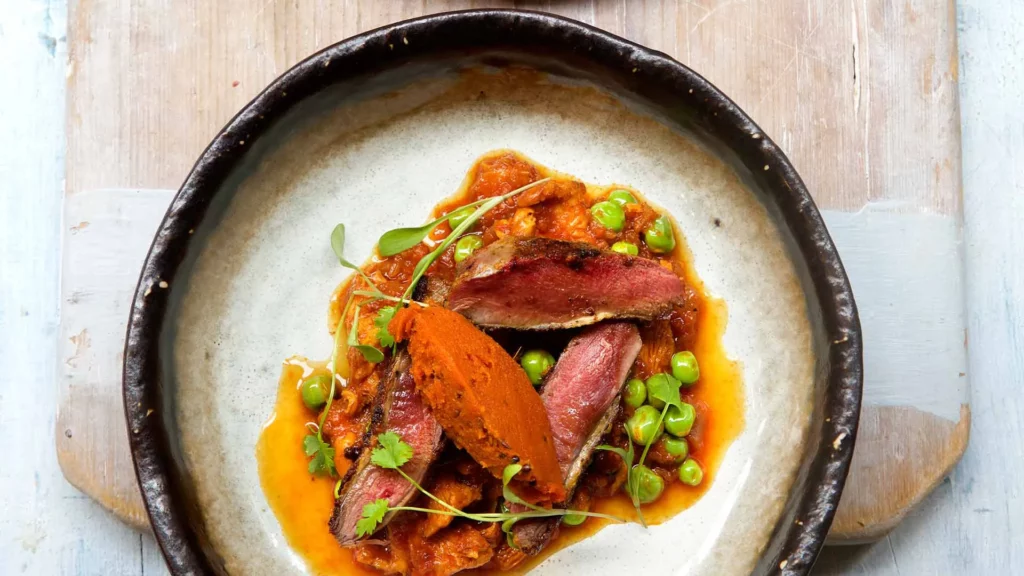 Soho and the West End are a haven for food lovers, offering a diverse range of culinary delights that cater to all tastes.
Whether you're craving traditional British cuisine, exotic flavours from around the world, or innovative fusion dishes, the restaurants in these vibrant neighbourhoods have got you covered.
So, grab your appetite, explore the streets, and embark on a gastronomic adventure you won't soon forget.

Note: The addresses provided are accurate as of the article's publication date, but it's always recommended to double-check before visiting.
If you want to support our blog, please make your flight and hotel bookings at no extra cost to you by clicking onto the adverts (we make a small commission to keep the blog going). 
You can book through the link to anywhere in the world, but of course, we encourage you to come explore London!