London, the cultural melting pot of the United Kingdom, is home to a vibrant and diverse food scene.
Amongst the numerous cuisines readily available, Indian cuisine stands apart for its rich abundant tastes, aromatic spices, and mouthwatering delicacies.
For many years, Indian food in London has gained immense popularity and has become an integral part of the city's culinary landscape, and indeed, British culture.
Learn a little more about the history of British Indian cuisine, or just jump to our recommendations!
A trip to London would be incomplete without indulging in the extraordinary quality of Indian food in London.
Check out just a few of the best Indian restaurants the city has to offer.
Dishoom
Found in the heart of Covent Garden, Dishoom is a delightful tribute to the bustling Irani cafés of Mumbai.
The restaurant boasts a warm and nostalgic ambience, reminiscent of the golden era of Bombay.
With an extensive menu featuring signature dishes such as the delectable Chicken Ruby and the famous Dishoom Black Daal, this restaurant offers a unique culinary experience.
Dishoom's attention to detail and dedication to quality have earned it a devoted following among locals and tourists alike.
Dishoom can be enjoyed at numerous branches throughout London including:
Dishoom Covent Garden: 12 Upper St Martin's Lane, Covent Garden, London WC2H 9FB
Dishoom Kensington: 4 Derry Street, London W8 5SE
Dishoom Kings Cross: 5 Stable Street, London, N1C 4AB
Dishoom Canary Wharf: 13 Water Street, London E14 5GX
Dishoom Carnaby: 22 Kingly Street, London W1B 5QP
Dishoom Shoreditch: 7 Boundary Street, London E2 7JE
Positioned in the elegant neighbourhood of Mayfair, Gymkhana showcases the grandeur of colonial India through its décor and menu.
This Michelin-starred restaurant serves exquisite Indian cuisine with a focus on flavours from the Indian subcontinent.
From the succulent Tandoori Lamb Chops to the fragrant aromatic Malabar Prawn Biryani, each dish at Gymkhana is crafted with precision and finesse.
The restaurant's commitment to authenticity and its exceptional service make it a favourite among discerning food enthusiasts.
Address: 42 Albemarle St, Mayfair, London W1S 4JH
Veeraswamy is an iconic restaurant situated on Regent Street that offers an extraordinary gastronomic experience.
Established in 1926, Veeraswamy is the oldest surviving Indian restaurant in London. Veeraswamy is a heritage experience and testament to the high quality of culinary offerings.
With its elegant ambiance and opulent décor, the restaurant radiates a timeless charm and evokes a bygone age of colonial India.
Renowned for its authentic flavors and immaculate service, Veeraswamy showcases a fusion of traditional and contemporary Indian dishes, all meticulously prepared from age-old recipes passed down through generations.
We recommend some of the restaurant's signature dishes. These include flavorsome Chicken Chettinad, indulgent Butter Chicken, and fragrant  Biryani. 
Address: 99 Regent Street, London W1B 4RS
Nestled in the heart of Mayfair, Benares is a culinary masterpiece by renowned chef Atul Kochhar.
This Michelin-starred restaurant integrates traditional Indian flavours with contemporary techniques, resulting in a genuinely extraordinary dining experience.
Benares showcases a wide array of regional dishes, each meticulously prepared and beautifully presented.
With its elegant atmosphere and innovative menu, Benares has become a mecca for food connoisseurs seeking a refined Indian culinary experience.
Address: 12a Berkeley Square House, Berkeley Square, Mayfair, London W1J 6BS
Darjeeling Express – Soho
Led by the talented chef and entrepreneur Asma Khan, Darjeeling Express offers an authentic taste of home-cooked Indian food.
Found in vibrant Soho, this restaurant prides itself on serving dishes passed down through generations. With dishes like the Kolkata Puchka and Railway Mutton Curry, Darjeeling Express captures the essence of regional Indian cuisine. The warm and welcoming atmosphere, paired with the scrumptious food, creates an unforgettable dining experience.
Address: 2nd Floor, 6 Kingly St, Soho, London W1B 5PW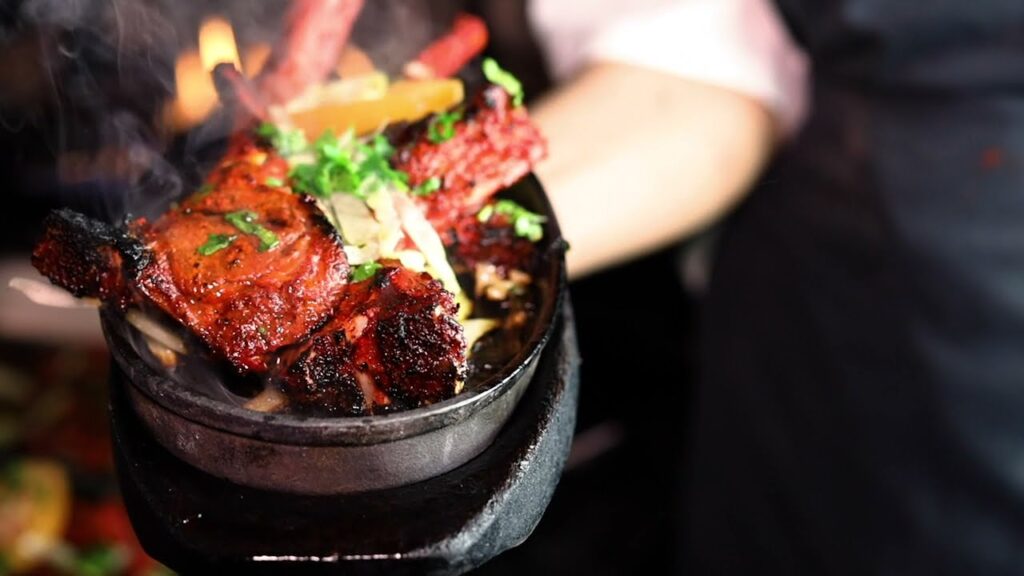 Located in Whitechapel, Tayyabs has become a legendary establishment known for its mouthwatering Punjabi food.
This family-run establishment has been serving Londoners for over four decades, and its reputation for succulent kebabs and fragrant curries is unequalled.
The bustling atmosphere, reminiscent of an Indian street food market, adds to the charm of this iconic restaurant.
Tayyabs is a must-visit for those looking for a taste of authentic Punjabi delights.
Address: 83-89 Fieldgate St, Whitechapel, London E1 1JU
Transport yourself to the vibrant streets of Sri Lanka and South India at Hoppers, situated in the heart of Soho.
This trendy restaurant specializes in traditional Sri Lankan and Tamil Nadu cuisine, serving dishes like the iconic Hoppers (fermented rice and coconut milk pancakes) and fragrant aromatic Kothu Roti.
The restaurant's vibrant decor, inspired by the bustling streets of Sri Lanka, contributes to the overall experience.
Hoppers' dedication to showcasing the varied tastes of South India and Sri Lanka has earned it a well-deserved reputation among food lovers.
Address: 49 Frith St, Soho, London W1D 4SG
Masala Zone – Covent Garden
In the lively neighbourhood of Covent Garden, Masala Zone stands apart as a haven for authentic Indian street food.
This vibrant restaurant captures the essence of numerous regional cuisines across India, serving favourites like Pani Puri, Butter Chicken, and Biryani.
The vibrant interiors decorated with folk art and traditional Indian motifs, create an immersive dining experience.
Masala Zone's commitment to presenting the diverse tastes of India, along with its vivid atmosphere, makes it a popular option for local residents and tourists alike.
Address: 48 Floral St, Covent Garden, London WC2E 9DA
This Michelin-starred restaurant blends traditional Indian flavours tastes with global influences, resulting in innovative and visually spectacular dishes.
From the innovative Galouti Kebab to the decadent Makhan Malai dessert, each creation at Indian Accent is a masterpiece.
The sophisticated interiors and flawless service enhance the extraordinary dining experience.
Address: 16 Albemarle St, Mayfair, London W1S 4HW
London's Indian restaurant scene is a testament the rich culinary heritage and expertise of Indian cuisine. The city offers range of gastronomic delights, ranging from regional delicacies to modern contemporary interpretations of traditional dishes.
Whether it's the nostalgic charm Dishoom, the refined elegance Benares, or the homely flavours of Darjeeling Express, each dining establishment adds to the tapestry of Indian flavours in London.
With their commitment to quality, authenticity , and innovation development, these establishments have captured the essence of Indian cuisine food, earning them a well-deserved reputation amongst residents and visitors alike.
If you want to support our blog, please make your flight and hotel bookings at no extra cost to you by clicking onto the adverts (we make a small commission to keep the blog going). 
You can book through the link to anywhere in the world, but, of course, we encourage you to come explore London!