In the heart of the vibrant city of London, a gem of a hotel awaits you– the DoubleTree by Hilton London Angel Kings Cross. Whether as a tourist or a business traveller, the convenience of this area will enrich your experience of London.
Location, location, location! Angel Kings Cross is a neighbourhood in the Borough of Islington just a ten-minute walk or a 2-minute (literally) tube ride east to Kings Cross.
Angel Islington is the sweet spot: close to everything you need and a wonderful area to explore. Any London attraction is within easy reach. In addition, you will be rewarded by a dynamic district yet full of great cultural and aesthetic appeal, and a hotel that offers you comfort and convenience.
The surrounding areas, within a short walk or ride, are places you will also want to explore!
The DoubleTree by Hilton in Angel Kings Cross is a fantastic choice for your visit to London. From its well-appointed rooms to its exceptional amenities and prime location, the DoubleTree by Hilton London Angel Kings Cross is your gateway to an unforgettable British adventure.
A Warm Welcome and Unforgettable Stay
As you enter the DoubleTree by Hilton London Angel Kings Cross, the first thing that will strike you is the warm and welcoming atmosphere. 
The hotel is renowned for its signature warm chocolate chip cookie upon check-in: a small gesture that represents the hospitality and embracing comfort that await you throughout your stay. This attention to detail sets the tone for the entire experience.
The hotel boasts a range of rooms and suites designed with your comfort in mind. Whether you're a solo traveller, a couple looking for a romantic getaway, or a family on an exciting adventure, there's a perfect room for everyone.
The clean contemporary décor, luxurious linen and modern amenities guarantee that you have a comfortable and relaxing stay after a day of exploring this extraordinary city.
 Exceptional Offerings and Facilities
DoubleTree by Hilton London Angel Kings Cross is recognised as hotel that marries outstanding location with comfort. Its offering is clean, modern, uncluttered, and focussed on comfort. The hotel offers a range of facilities to accommodate your every need.
For such a central location, the DoubleTree by Hilton rooms are surprisingly spacious and thoughtfully decorated. The décor is curated to create a haven of tranquility after a long day of pounding the streets sightseeing. With plush bed linen, comfortable furnishing, and a soothing colour palette, every detail is carefully assembled to guarantee a restful stay.
The signature Sweet Dreams ™ by DoubleTree sleep experience promises nights of uninterrupted rest, allowing you to wake refreshed and ready to take on the day.
Start your day with a hearty breakfast at one of the two hotel restaurants offering a continental or a buffet breakfast where you can enjoy a variety of options to suit your taste.
In the evening, unwind with a carefully crafted cocktail at the Bar 60, a stylish lounge that offers a large selection of drinks and a relaxing atmosphere.
For those who like to stay active even while traveling, the hotel's fitness centre is well-appointed with modern equipment, enabling you to keep up with your workout routine.
The Hotel amenities are modern and comfortable. High-speed Wi-Fi keeps you connected, while the flat-screen TV offers great home entertaining choices. Every room has an ergonomic workspace which is perfect for the business traveller allowing you to work productively and conveniently in your room.
One of the standout features of the DoubleTree by Hilton in Angel is the exceptional staff. Their warm and authentic hospitality creates a welcoming environment. Whether you need assistance with recommendations for exploring the vibrant area or require something specific for your room, the staff is always set to help with a smile.
The hotel is a perfect choice for families. The rooms are large and can accommodate additional beds. It's also an affordable family option as kids under 18 years old stay free (with existing bedding) when sharing a room with a paying adult on a room only rate. In addition, children 5 years and under enjoy complimentary buffet breakfasts.
The hotel's prime location in Angel means that it's a shopping haven without having to deal with the tourists and crowds of Oxford Street.
There are fantastic shopping areas to explore – check out the trendy Angel Central shopping centre with also includes a ten-screen cinema and lots of eateries. The trendy shops on Upper Street are worth a look, with a mixture of high street chains and independent shops and boutiques.
Don't miss the amazing Camden Passage which is a stone's throw from the Hotel and access via Upper Street. This is a famous antique area and is also full of great independent shops, boutiques, restaurants, and coffee shops.
Camden Passage is a local secret and a gem that barely features on the standard tourist map so it's full of locals who know where to find the best of London. Just strolling along these areas with give you a thrill, and a glimpse of real life in London.
And if you're interested in an authentic local London experience, have a browse in Chapel Market and have a chat with local traders. Chapel Market is central to the lives of many Islington residents and gives a true flavour of the district. On Sundays, the market hosts a Farmer's Market with specialist cheeses, organic vegetables and home-made pastries.
Exploring the Neighbourhood: Kings Cross and Beyond
The neighbourhood of Angel is a vibrant shopping and entertainment district, with cocktail bars, traditional pubs, and fantastic restaurants on Islington Green and Upper Street.
Angel is an area with everything: Stalls in old-school Chapel Market sell fruit and vegetables, plant, fresh fish, household goods, and clothes, while Camden Passage is home to antiques shops and indie boutiques. Angel Central shopping has high street fashion chains.
Sadler's Wells Theatre is a renowned contemporary dance venue and hosts world-class dance companies and choreographers.
The DoubleTree by Hilton London Angel Kings Cross is ideally located to allow you to explore some of London's most iconic neighbourhoods and destinations. Just a hop, skip and a jump Kings Cross station, a hub of transportation that links you to different parts of the city and beyond. Marvel at the spectacular architecture of the station, and the iconic St Pancras Station and Hotel,  adjacent and don't forget to take a photo with the famous Platform 9 3/4 sign, a must for any Harry Potter fan.
Close to Angel, explore the wonderful Exmouth Market, a charming street lined with cafes coffee shops and restaurants that few tourists know about but with a very loyal local trade. Here too you can enjoy tastes from around the world and browse in independent and charming stores. There is also a fantastic street food market every day during the week with stalls selling delicious food to lunch-time trade.
Where to eat: Most recommended in neighbourhood
Around Angel, or within minutes' walk, there is a tapestry of tastes in the neighbourhood, and a multitude of fantastic restaurants offering any kind of cuisine you fancy.
The Kings Cross area is also home to a burgeoning culinary scene. It's worth making your way to Dishoom for some of the best Indian food you will encounter, evocative of Iranian cafes in Bombay and with mind-blowing flavours. There are other great restaurants and cafes to explore too.  Wander in the fantastic Coal Drops Yard, designed by the brilliant Thomas Hetherwick. 
 In Exmouth Market, there are three places that stand out as exceptional. Café Kick serves home-made and utterly delicious Spanish and French café food, all served on hand-built ceramic plates and bowls. By evening, after lunch service, the crowd is younger, super vibey and the bar buzzes. For a more formal dining experience, make a reservation at the famous Moro Restaurant serving amazing modern Spanish and Moroccan cuisine. Finally, we highly recommend the fish tacos at Taqueria.
Around Upper Street, you are spoiled for options in a gastronomic tableau. Two establishment are especially noteworthy: Fredericks and Ottolenghi.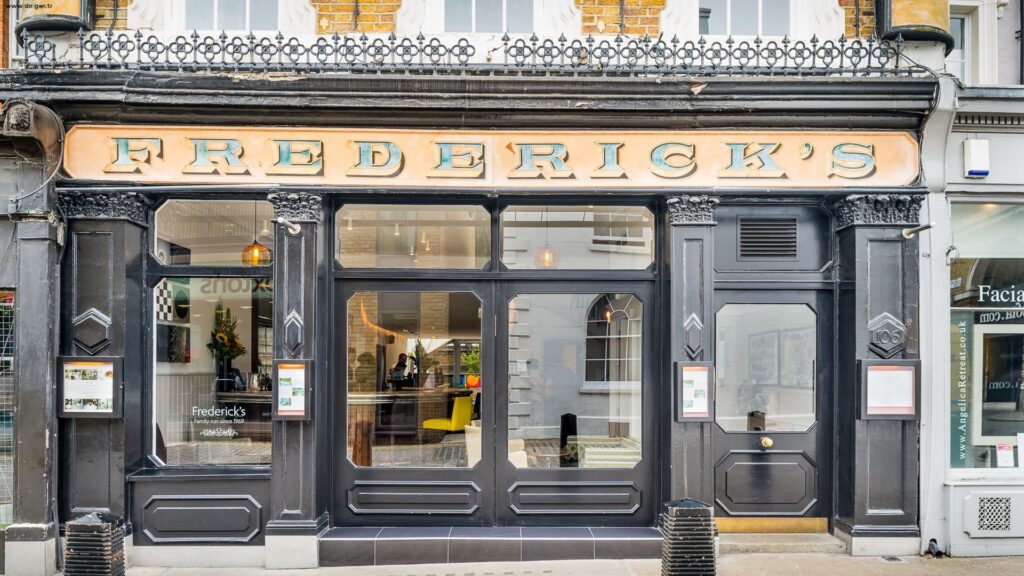 Frederick's stands as a symbol of refined dining within the heart of Angel Islington. Housed within a historic architectural masterpiece, the restaurant perfectly weds sophistication with warm hospitality. The menu reads like a love letter to British cuisine, with each dish meticulously crafted from seasonal, locally-sourced ingredients.
Ottolenghi, a name synonymous associated with Middle Eastern culinary artistry, is a vibrant addition to Angel Islington's gastronomic tapestry. The restaurant is an ode to colours and flavours, with dishes that celebrate the freshness of the ingredients. From vibrant salads to intricate pastries, each plate is a canvas of textures and tastes, harmoniously coming together.
Nevertheless, these iconic establishments merely set the stage for the culinary symphony that Angel Islington offers. Here are ten more restaurants that further enrich the area's culinary scene:
The Gate: A haven for vegetarians and vegans, The Gate boasts inventive plant-based dishes that tantalize the taste buds.
Brother Marcus: Blending Mediterranean and Middle Eastern influences, Brother Marcus offers ingenious brunch options in a cozy setting.
Radici: This Italian restaurant whisks diners to the heart of Italy with its authentic tastes and warm, rustic ambiance.
Rk Islington: Specializing in Nordic cuisine, Rk offers a distinct take on traditional dishes, embracing the purity of flavours.
Almeida: A theatre-district gem, Almeida presents modern European cuisine in a chic setting, making it a popular pre-theatre dining option.
El Inca Plebeyo: This family-run restaurant introduces the flavours of Ecuador, with traditional dishes meals prepared from family recipes.
Oldroyd: An intimate space, Oldroyd boasts a menu inspired by global tastes, offering a delightful array of small plates perfect for sharing.
Bellanger: Transporting patrons to a Parisian brasserie, Bellanger serves traditional timeless French cuisine with flair and skill.
The Breakfast Club: A staple for brunch enthusiasts, The Breakfast Club serves all-day breakfast in a retro-inspired atmosphere.
Ziloufs: With a focus on flavours from the Americas, Ziloufs provides a fusion of tastes that showcases the culinary diversity of the region.
Upper Street, a busy a thoroughfare, beckons with its eclectic shops and cafes, providing a dynamic backdrop for exploration. On the other hand, Camden Passage offers a quieter escape, including charming antique stores and boutiques that harken back to a bygone era.
Bloomsbury: Literary and Cultural Haven
A short walk from the hotel will take you to the charming neighbourhood of Bloomsbury. Known for its rich literary history, Bloomsbury was once home to renowned authors like Virginia Woolf and E.M. Forster. Take a leisurely stroll through Russell Square, a serene oasis in the midst of the city.
The British Museum, one of the world's most famous cultural institutions, is also found in Bloomsbury.
The museum provides an immersive journey through history and art. Best of all its proximity to the hotel allows you to explore at your own pace and return for a well-deserved rest when needed.
The Foundling Museum, the Dicken's Museum, the Petrie, The Grand Museum of Zoology, the Postal Museum are all in Bloomsbury too, and for the science-minded, pop into the Wellcome Collection and the Crick Institute nearby.
Canal Charm and Beyond
As you explore the area around the hotel, don't miss the opportunity to discover the tranquil charm of Regent's Canal. This picturesque waterway winds its way through the city, offering an unique perspective of London. Take a leisurely stroll (or a run or cycle) along the towpath, and you'll encounter attractive houseboats, waterside cafes, and even the chance to hop on a narrowboat cruise to check out the city from a different angle.
Should you wish to venture a bit farther, the London Underground in Angel and Kings Cross, the former just a block from the hotel, makes it easy to get to other notable neighbourhoods and attractions. Whether you're heading to the West End for a theatre show, visiting historic landmarks of Westminster, or shopping along Oxford Street, the convenience of public transport, including an extensive bus network, guarantees that your adventures are within easy reach.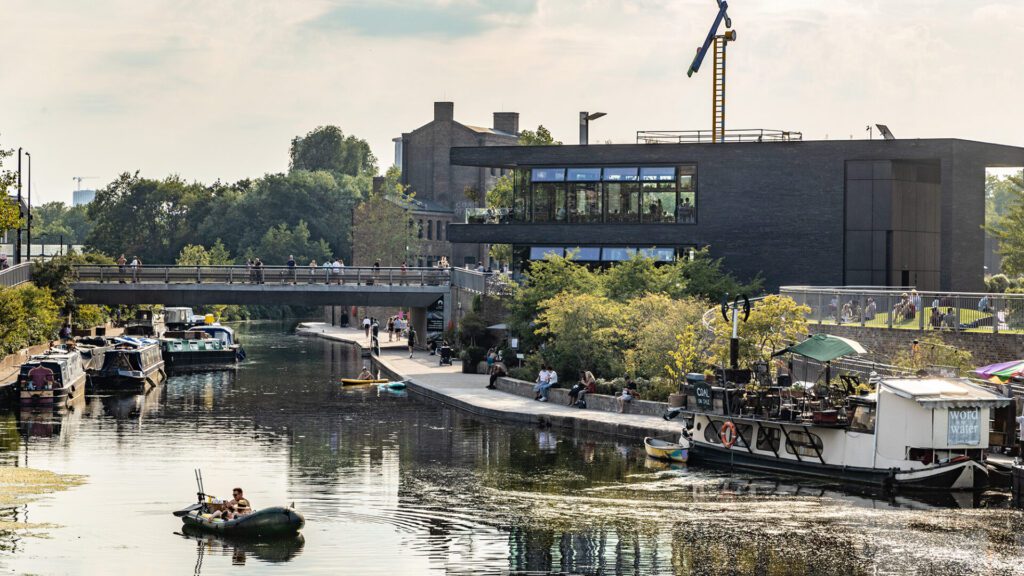 The DoubleTree by Hilton London Angel Kings Cross is more than just simply a hotel- it's your home away from home in the heart of London. Its comfortable accommodations, exceptional, and strategic location make it the perfect place for your adventure in this vibrant city.
From the bustling Kings Cross area to the literary haven of Bloomsbury and the charm of Regent's Canal, the hotel's surroundings offer a tapestry of experiences that will enrich your journey and create memories to last a lifetime.
So, pack load your bags, bring your sense of adventure, and get ready to embark on a British adventure that starts with a warm cookie and ends with unforgettable moments.