London is a city steeped in history, and among the best ways to immerse yourself in its past is by visiting its iconic pubs. These establishments have witnessed centuries of conversations, laughter, and camaraderie.
Here are 15 of the best historic and enduring pubs in London, where you can experience the perfect blend of old-world charm and modern-day cheer.
The George Inn
Address: 77 Borough High St, London SE1 1NH
Located in the heart of Southwark, The George Inn is a timeless gem dating back to the 17th century.
With its cozy wooden interiors and cobbled courtyard, this pub radiates old-world charm. It was a favourite haunt of literary giants such as William Shakespeare, Dr Johnson and Charles Dickens. The George Inn, which was immortalised in Dicken's Little Dorrit, is the last surviving galleried pub and London's last coaching inn. 
Today, visitors can enjoy a wide selection of ales, and hearty pub grub, and live music.
The Spaniards Inn
Address: Spaniards Rd, Hampstead, London NW3 7JJ
Nestled in the middle of the picturesque Hampstead Heath, The Spaniards Inn stands as one of London's oldest pubs established in 1585.
It has functioned as inspiration for authors like Bram Stoker and Charles Dickens.
The inn's lush gardens and historic interiors are perfect for a leisurely afternoon with friends. They offer traditional British dishes and a fantastic selection of cask ales.
The Lamb and Flag
Address: 33 Rose St, Covent Garden, London WC2E 9EB
If you're in the mood for a taste of London's seedy past, The Lamb and Flag in Covent Garden is the place to be.
Dating back to the 17th century, this has seen its fair share of brawls and heated literary discussions.
Notorious for hosting bare-knuckle fights, it earned the nickname "The Bucket of Blood."
Today, it offers a more salubrious and peaceful atmosphere where you can savour a pint while diving into its colourful history.
Ye Olde Cheshire Cheese
Address: 145 Fleet St, London EC4A 2BU
Step into Ye Olde Cheshire Cheese, and you'll be transported back to the 17th century.
This Fleet Street establishment built after the Great Fire of London, has been frequented by literary giants such as  Mark Twain and Sir Arthur Conan Doyle.
With its dimly lit rooms, wood beams, and winding staircases, the pub oozes historic charm.
Order the classic fish and chips and raise a glass to London's literary past.
The Ten Bells
Address: 84 Commercial St, Spitalfields, London E1 6LY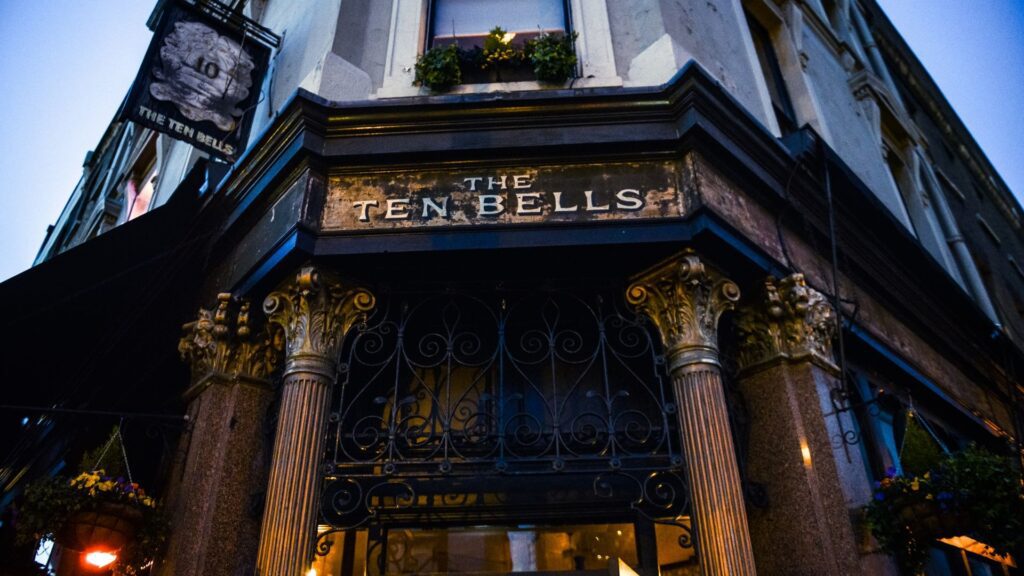 Venture into the vibrant streets of Spitalfields, and you'll stumble upon The Ten Bells, a pub with a dark past linked with the infamous Jack the Ripper.
The pub's name refers to the ten bells of Christ Church, and it has been standing since the mid-18th century.
Despite its eerie history, the pub now offers a warm and welcoming atmosphere where you can enjoy a traditional pie and pint.
The Prospect of Whitby
Address: 57 Wapping Wall, Wapping, London E1W 3SH
For a nautical-themed experience, head to The Prospect of Whitby in Wapping.
Established in 1520, this riverside pub has been a favourite haunt of pirates and smugglers.
Its low ceilings and antique decor transport you to London's maritime past. Enjoy their delicious seafood dishes while taking in spectacular views of the River Thames.
The Anchor Bankside
Address: 34 Park St, London SE1 9EF
With a history dating back to the 16th century, The Anchor Bankside boasts a prime location along the Thames Path.
It has been frequented by renowned figures like Samuel Pepys and William Shakespeare.
The pub's riverside terrace offers breathtaking views of St. Paul's Cathedral and the Globe Theatre.
Grab a pint, kick back and enjoy the boats pass by.
The Blackfriars
Address: 174 Queen Victoria St, London EC4V 4EG
Located near the historic Blackfriars Bridge, The Blackfriars pub has been a local favourite since 1875.
Its elaborate Victorian facade and rich, dramatic interiors create a timeless atmosphere.
The pub offers a wide selection of craft beers and classic pub fare, making it a great spot for a relaxed evening with friends.
The French House
Address: 49 Dean St, Soho, London W1D 5BG
Hidden away in the vibrant area of Soho, The French House has a storied past as a favourite watering hole for artists, writers and musicians.
With a dash of bohemian flair, this pub has been serving patrons since the 19th century.
It's known for its lack of music, television and no mobile-phone policy, encouraging patrons to engage in conversations and enjoy the art of good company. 
It's busy memento-filled interior is vibey and literary, and its no-tech embracing regulars spill out onto the pavement. Expect to meet writers, musicians and showbiz types who are among its loyal customers.
The Cittie of Yorke
Address: 22 High Holborn, London WC1V 6BN
Step into The Cittie of Yorke, a historic pub that dates to the 1430s.
Its interior is a sight to behold with grand wooden benches and medieval-style booths.
Once a favoured haunt of Charles Dickens, the pub now serves a wide range of cask ales and hearty dishes.
The ancient atmosphere makes it an ideal choice for a truly unique pub experience.
Ye Old Mitre
Address: 1 Ely Ct, Hatton Garden, London EC1N 6SJ
Nestled down a narrow alley in Hatton Garden, Ye Old Mitre is a hidden gem with a history dating back to 1546.
Once a favoured meeting place for Queen Elizabeth I and her courtiers, this pub still retains its historic charm.  
Its snug rooms decorated with old memorabilia transport you back in time.
Enjoy a traditional pub lunch and sample ales from local breweries, making it a delightful escape from the bustling streets of London.
The Lamb
Address: 94 Lamb's Conduit St, Holborn, London WC1N 3LZ
For a taste of 18th-century elegance, head to The Lamb in Holborn.
Established in 1720, this pub boasts a beautiful Georgian exterior and a cozy interior with wooden beams and charming fireplaces.
It has long been a favourite of scholars and literary figures from nearby institutions like Great Ormond Street Hospital and the University of London.
Indulge in their extensive wine list and enjoy the traditional British dishes meals for a quintessential London experience. 
The Seven Stars
Address: 53 Carey St, Holborn, London WC2A 2JB
Prepare to step back in time at The Seven Stars, a captivating pub that has been welcoming patrons since the early 1600s.
Tucked away on Carey Street in Holborn, it is among London's surprise treasures.
As you walk in, you'll be welcomed by its low ceilings, exposed beams, and an assortment of vintage artifacts adorning the walls.
The Seven Stars has a fascinating history, having served as a popular haunt for lawyers from the nearby Royal Courts of Justice.
Enjoy their fine selection of genuine ales and traditional pub meals and soak in the ambiance that has captivated Londoners for centuries.
The Churchill Arms
Address: 119 Kensington Church St, Kensington, London W8 7LN
The Churchill Arms is an iconic pub with a remarkable history.
Originally established in the late 18th century, it was later renamed in honour of Winston Churchill, the legendary British Prime Minister.
The exterior of the pub is adorned with an astonishing display of over 100 flower-filled hanging baskets, transforming it into a floral masterpiece making it one of London's most Instagrammable spots.
The interior is equally similarly charming featuring memorabilia and photos dedicated to Winston Churchill.
Known for its delicious Thai cuisine the pub offers a delightful blend mix of British tradition and Thai flavours making it a must-visit destination for both locals and tourists.
The Viaduct Tavern
Address: 126 Newgate St, London EC1A 7AA
Finally, standing proudly near the historic Old Bailey, The Viaduct Tavern is a real Victorian gem that was constructed in 1875.
Once a grand gin palace, this pub has managed to preserve its opulence and elegance throughout the years.
As you step inside, you'll be greeted by its spectacular stained-glass windows, elaborate tilework, and ornate décor.
The Viaduct Tavern is not only a testament to London's architectural heritage and to Victorian master craftsmanship, but also holds a fascinating history, having been a former a debtors' prison and later a police station.
Today, this iconic pub offers a large choice of craft beers, cask ales, and classic pub fare.
Whether you choose to sit at the long mahogany bar or find a cozy corner, you'll be transported to the days when Victorians gathered to share stories and laughter.
Cheers!
If you want to support our blog, please make your flight and hotel bookings by clicking onto the adverts (we make a small commission and would really appreciate it). You can book through the link to anywhere in the world, but, of course, we encourage you to come explore London!