London is renowned for its abundant cultural heritage, iconic landmarks, and of course, the tradition of afternoon tea.
A quintessentially British experience, afternoon tea provides a delightful escape from the bustling of city life, transporting you to an era of elegance, sophistication, and refinement. What a treat!
Here you will discover some of the very best places in London to enjoy this cherished ritual. Let's check out what makes these places distinct and special.
Before we do that, we thought we would share a few tips about the etiquette of Afternoon Tea:
Afternoon tea is traditionally served with loose-leaf tea, so don't forget to request a tea strainer if needed.
Begin by spreading out a dollop of clotted cream on a warm scone before to adding the jam. (Actually, there is a long and passionate debate about this, perhaps the subject of a separate article).
When enjoying in finger sandwiches, take small bites and use your fingers rather than cutlery.
Pace yourself and savour each bite to fully appreciate the flavours and experience.
Some venues offer themed afternoon teas, such as Alice in Wonderland or Harry Potter-inspired tea experiences, adding a touch of whimsy and delight.
Consider upgrading your tea experience with a glass of Champagne or a sparkling drink for a touch of luxury.
Afternoon tea is a popular activity in London, so it is advisable to book in advance to secure your preferred time and date.
Check the dress code of the venue before your visit. While most places have a smart-casual dress code, some might require formal attire.
So, put on your glad rags, prepare your taste buds and let's begin!
Nestled in the heart of St. James's, The Ritz epitomizes timeless sophistication and high end British-French dining.
Step into the ornate Palm Court, decorated with baroque-style gilded room, dazzling chandeliers and ceiling frescoes, and luxurious furnishings. Prepare to be mesmerized by a truly amazing afternoon tea experience. 
Indulge in exquisite finger sandwiches, freshly baked scones with clotted cream and strawberry preserve, and a delightful array of pastries, all accompanied by an extensive choice of teas. The attentive staff, dressed in impeccable uniforms, add to the refined ambiance. Gentlemen are required to wear a jacket and tie, and jeans and sports attire are not allowed for anyone.
150 Piccadilly, St. James's, London, W1J 9BR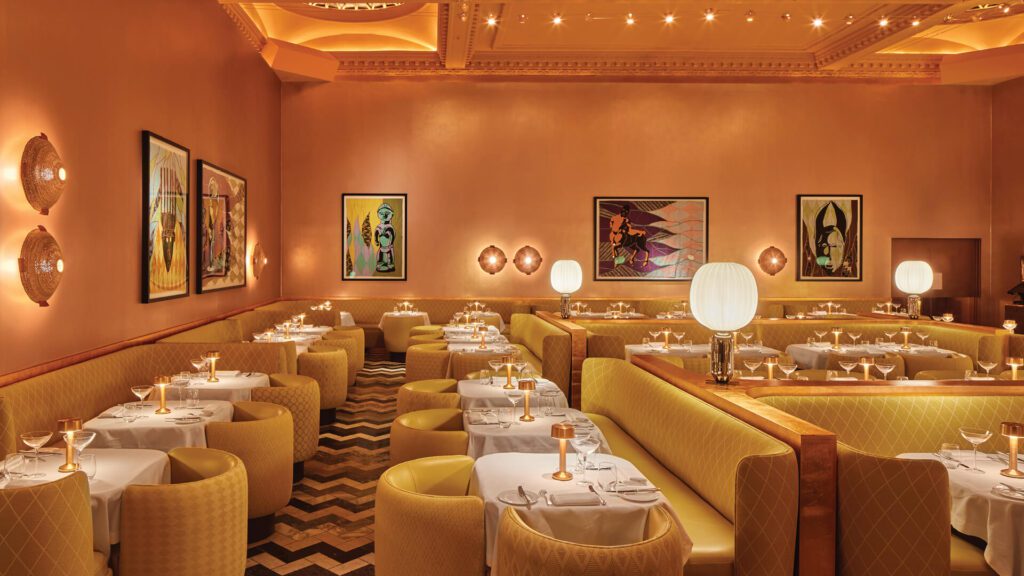 Located in the vibrant district of Mayfair, Sketch offers an avant-garde take on afternoon tea.
Step into a wonderland of imagination, where art and gastronomy collide.
The Gallery, with its pink velvet seats and whimsical artwork, sets the stage for an unforgettable experience. Delight in a selection of finger sandwiches, delectable pastries, and unique special treats, all served on bespoke crockery.
Don't forget to visit the Instagram-worthy, egg-shaped washrooms, adding an element of surprise to your visit.
9 Conduit St, Mayfair, London, W1S 2XG.
Established in 1707, Fortnum & Mason is a true institution of British luxury.
Situated in the heart of St. James's, this iconic store offers a sumptuous afternoon tea experience in their elegant Diamond Jubilee Tea Salon.
Enjoy a selection of delicate finger sandwiches, freshly baked scones, and a variety of splendid pastries, all accompanied by Fortnum's signature teas. Immerse yourself in the refined atmosphere and browse the store prestigious selection of teas and delicacies.
181 Piccadilly, St. James's, London, W1A 1ER.
Housed in a magnificent Grade II-listed building, The Wolseley exudes a sense of grandeur.
Located on Piccadilly, this renowned restaurant offers an indulgent afternoon tea experience. Savour delectable finger sandwiches, warm scones with clotted cream, and an array of delicious pastries, all served on silver cake stands.
The extravagant interior, inspired by European café culture, creates an atmosphere of timeless sophistication.
160 Piccadilly, St. James's, London, W1J 9EB.
In the heart of Mayfair, Claridge's beckons with its legendary afternoon tea experience. This iconic Art Deco hotel has been synonymous with luxury since the 19th century.
Indulge in a selection of finely crafted finger sandwiches, freshly baked scones, and a symphony of pastries, all served in the elegant Foyer & Reading Room.
The exceptional and glamorous surroundings make Claridge's a must-visit destination for tea enthusiasts and connoisseurs of luxury.
Brook St, Mayfair, London, W1K 4HR.
The Orangery at Kensington Palace
Escape to the enchanting world of Kensington Gardens and discover The Orangery at Kensington Palace.
The garden pavilion was built in 1704 for Queen Anne in 1704. This stylish venue offers a tranquil setting for afternoon high tea. As you sip your tea and indulge in wonderful pastries, you'll be surrounded by sensational views of the palace gardens.
The Orangery's historic charm and picturesque location make it a perfect spot to unwind relax and immerse yourself in the regal ambiance.
Kensington Gardens, London, W8 4PX.
For a taste of traditional British hospitality, head to The Goring.
This glamorous hotel, located in the heart of Westminster, is known for its impeccable service and refined afternoon high tea experience.
Settle into the elegant surroundings of The Goring's Dining Room, adorned with stunning chandeliers and luxurious materials. Enjoy scrumptious sandwiches, warm scones, and a tempting assortment of pastries, all served with the utmost care and attention to detail.
15 Beeston Pl, Westminster, London, SW1W 0JW.
The Wallace Restaurant at The Wallace Collection
Immerse yourself in art and culture while enjoying afternoon tea at The Wallace Restaurant, nestled within The Wallace Collection Museum.
This hidden gem in Marylebone offers a unique setting to appreciate delectable treats surrounded by masterpieces.
Feast your eyes on the museum's renowned collection of paintings, porcelain, and furniture as you indulge in a selection of sandwiches, freshly baked scones, and delicate pastries.
The combination of art, history, and culinary delights makes this experience genuinely memorable.
Hertford House, Manchester Square, Marylebone, London, W1U 3BN.
Located in the prestigious neighbourhood of Mayfair, The Dorchester offers a lavish afternoon tea experience in its elegant Promenade.
This iconic hotel, with its timeless charm and flawless service, has been a favourite of royalty and celebrities for years.
Indulge in an array of finger sandwiches, warm scones, and exquisite pastries, accompanied by a choice of fine teas.
As you savour each bite, you'll be surrounded by the hotel's splendid décor and breath-taking floral arrangements.

53 Park Ln, Mayfair, London, W1K 1QA.
For a more simple, contemporary and relaxed twist on afternoon high tea, head to Bea's of Bloomsbury in Holborn. This is conveniently located, in walking distance from the British Museum.
This charming bakery and tearoom offers an informal atmosphere, perfect for a casual tea experience. Enjoy a selection of freshly baked cakes, pastries, and scones, served with your choice of tea or coffee.
With its relaxing and delicious treats, Bea's of Bloomsbury provides a respite from the bustling streets of London.
44 Theobalds Rd, Holborn, London, WC1X 8NW.
London boasts a myriad of amazing venues where you can indulge in the tradition of afternoon high tea.
From opulent hotels to charming tearooms, each place offers a special atmosphere and culinary cooking. Whether you prefer a traditional, refined setting or a more contemporary twist, London's afternoon tea scene accommodates every taste.
Enjoy checking out the city's finest afternoon tea spots, and immerse yourself in the elegance and charm that has made afternoon tea a cherished tradition for centuries.
If you want to support our blog, please make your flight and hotel bookings at no extra cost to you by clicking onto the adverts (we make a small commission to keep the blog going). 
You can book through the link to anywhere in the world, but, of course, we encourage you to come explore London!